The 2019 alumni (Summer School La Sapienza) were able to reunite with their peers during a trip to French Guiana to visit the European Space Port (CSG). The participants, coming from all backgrounds, have since evolved professionally in the European space sector. It was therefore an opportunity to meet again and live a new experience altogether that will remain in their memories.
The pandemic crisis having delayed this long-awaited visit, the 24 German, Austrian, Belgian, Spanish, French and Italian alumni of the CVA 2019 Summer School travelled to Guiana last November.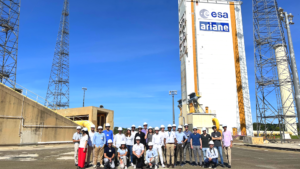 The trip started with two days of visits to the CSG (Centre spatial guyanais). This very rich and intense programme covered all aspects related to the space centre and the participants were able to meet site managers and engineers. The highlight of the visit was the visit to ELA4 (Ariane 6 launch area). The participants were able to visit the BAL (Bâtiment d'Assemblage Lanceur) and see the Ariane 6 which is currently in the mobile gantry.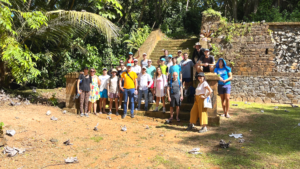 The second part of the programme was dedicated to the discovery of French Guyana with cultural visits and an excursion to the Salvation Islands.
CVA would like to thank all the teams and staff at CSG who helped to organise and make this year's visit a success. We also wish our participants all the best for their future space careers and we hope to meet you again very soon!
The next visit to the CSG will take place with the 2022 alumni (Bordeaux /Bremen) in the year 2023.