The CVA Presidency, which this year is held by the city of Colleferro and its industrial partner AVIO, was inaugurated on 29 January 2022 at the Teatro Comunale Vittorio Veneto.
This ceremony also marked the 10th anniversary of the first VEGA launch and the commemoration of the victims of the explosion of the explosive factory (BDP) of 1.2.1938.
Francesco Guadagno, City Councillor and host of the ceremony, Pierluigi Sanna, Mayor of Colleferro and President of CVA 2022, presented the main lines and objectives of the ambitious programme of the Presidency, co-organised with the political, economic, cultural and educational actors of the Lazio region. Marco Biagioni, appointed General Delegate of the CVA in December 2021, also took the floor and presented the raison d'être of the CVA.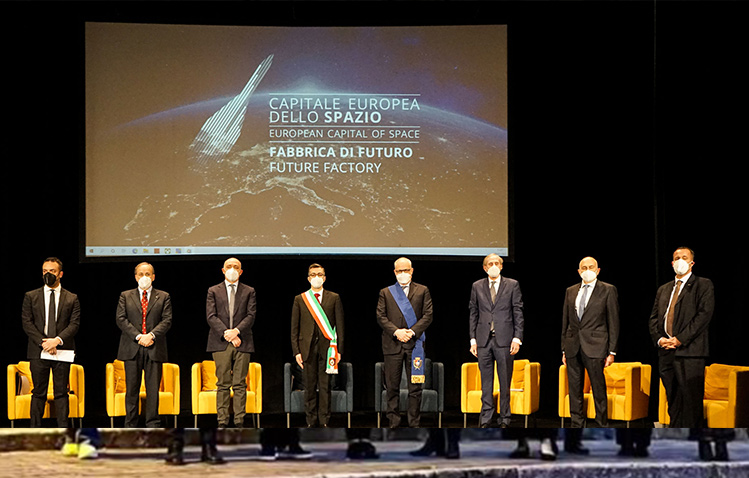 © Alessandro Passalacqua
F. Guadagno, G. Ranzo, D. Leodori, P. Sanna, R. Gualtieri, C. Masset, M. Biagioni, F. Le Gall
A large number of political and institutional officials also gave speeches.
Avio CEO, Giulio Ranzo
The European Space Agency (ESA) with Frédéric Le Gall
The Italian ambassador to the Netherlands, Giorgio Novello
The French ambassador in Italy, Christian Masset
The Vice President of the Lazio Region, Daniele Leodori
The Mayor of Rome, Roberto Gualtieri
The members of the CVA representing the cities of Les Mureaux and Seville as well as ESA, ASI. CNES and Arianespace participated in this eventful day.
Finally, the CVA would like to thank the city of Colleferro and Avio for this successful event inaugurating a year dedicated to space!