On 22 June 2022, after two years of CVA presidency, Bordeaux Métropole was finally rewarded with a flight of its logo on board of an Ariane 5.
The Ariane VA25 flight, launched from Europe's Spaceport in French Guiana (CSG), became part of the history of the Community of Ariane Cities. This time, the launcher carried the logo of our member Bordeaux Métropole, 2020-21 CVA Presidency, in the framework of our City-Launcher sponsorship programme. The logo of the metropolis was affixed to the Ariane 5 fairing on the occasion of two years of close collaboration to promote the space transportation sector in the Bordeaux region.
Good to know: Bordeaux Metropole, a founding member of the Community of Ariane Cities, has three ArianeGroup sites, the prime contractor for the Ariane launcher family. Two of them are located in Saint-Médard-en-Jalles and the third in Haillan.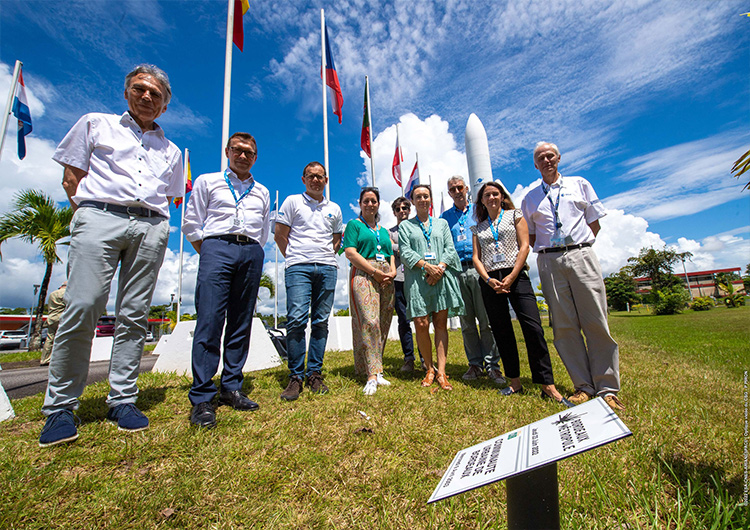 A CVA delegation was present at the launch, including Gilles Fonblanc, General Secretary of ArianeGroup and Antoinette Pedron, Director of Public Affairs for the Aquitaine region of ArianeGroup, Marie Bernadet, CVA Project Manager at Bordeaux Métropole and Sandrine San Martin, Deputy Director of the Bordeaux Aeroparc Metropolitan Development Project, Gaele Winters, CVA Ambassador and Louis Janot, Institutional Affairs at Arianespace.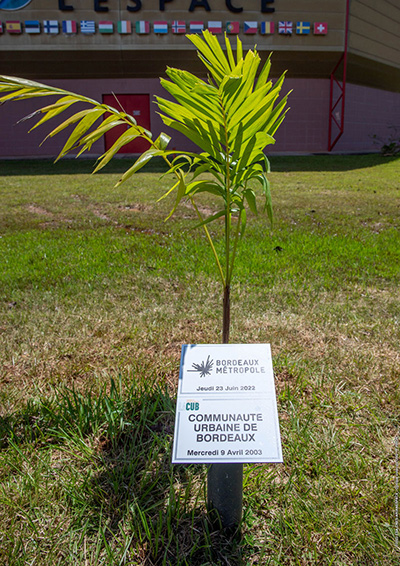 For each sponsored launch, a palm tree is planted on the CSG site to mark this special event. This year the ceremony took place in the presence of Stéphane Israël, CEO of Arianespace, Daniel de Chambure, Head of the ESA-Kourou Office and Pierre Tréfouret, Director of the CNES President's Cabinet.
Watch the sponsorship video of Bordeaux Métropole
and ArianeGroup for the flight VA257 here
The Community of Ariane Cities is very honoured to be able to contribute to the visibility of its members through a symbolic act that will allow them to touch the stars and would like to thank the teams of Arianespace, ESA, Cnes and ArianeGroup for the organisation of this unforgettable event.
Credit photo : ESA / CNES / Arianespace / Service Optique CSG – P. Piron & S. Martin
Credit video : Arianespace / ArianeGroup /Bordeaux Métropole / SuperBoss Productions