The last Council of Mayors of the year 2022 under the auspices of Colleferro and Avio was held in Milan.
CVA members had the opportunity to meet on 11 and 12 December to enjoy the last moments of Colleferro's presidency, who had put together an exceptional programme to close this eventful year. 
The programme began on 11 December with a visit to the Leonardo da Vinci Museum of Science and Technology, which is one of the largest and most important technical-scientific museums in the world. 
The second day started with a VIP Conference on the results of the ESA Ministerial Conference with Bert Basteijns, Director of Management Control and Operational Planning at ESA's Space Transportation Department and Philippe Pujes, Head of Launch Systems Programmes at CNES, moderated by Gaele Winters, CVA Ambassador.
Then the Council of Mayors took place, bringing together the cities of Liège, Les Mureaux, Rome and Seville, as well as representatives from ESA, Arianespace, ArianeGroup, Avio, Clemessy-Eiffage and, in particular, the city of Vernon, which will hold the CVA Presidency in 2023 with ArianeGroup.  
Pierluigi Sanna, President of CVA 2022, Mayor of Colleferro and Vice President of the Metropolitan City of Rome, chaired the meeting together with Francesco Guadagno, Deputy Vice President of CVA and Councillor of Colleferro and Marco Biagioni, CVA General Delegate. 
Numerous topics were discussed, such as:
The European space sector facing an increasingly unbalanced competition ; 

The raison d'être of the CVA association and its missions;

the assessment of the programme of events and actions organised by CVA and Colleferro in 2022;

the programme of the 2023 CVA presidency of Vernon;

its financial balance sheet for 2022 and its budget projection for 2023 ;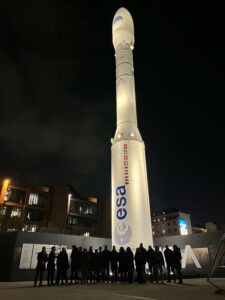 Not forgetting the awarding of the 2024 Presidency to the city of Seville represented at the Council of Mayors by Maria Sonya Gaya Sanchez, Deputy Mayor Delegate and Esperanza Caro Director of Sustainable Development and Finance and External Actions.
The two days of discussions ended with a visit to Leonardo da Vinci's Last Supper.
The Council of Mayors is held twice a year and is the decision-making body of the association. This institutional and convivial gathering allows to foster cooperation between the Ariane Cities network and the industrialists involved, while defining the actions to be carried out by the association to increase the influence of the space transport sector in Europe.
The CVA would like to thank Colleferro and Avio for their involvement and collaboration during this year of Presidency and all the actions carried out for the promotion of our network and more particularly of European space.